Open Mon-Fri:
Open Sat:
Open Sun:
Telephone:
E-mail:
Homepage:
Floor:

9.00–20.00
9.00–20.00
10.00–18.00
+372 600 0490
riketslilled@rikets.ee
www.rikets.ee
I floor
→ Look on map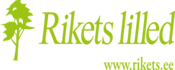 Rikets Lilled main activity is the sale of flowers. In addition to selling flowers, they also offer landscaping and gardening services
Rikets also deals with the import of flowers and potted plants and handles floral interior design. If the customer wishes, the plants bought from Rikets will also receive onsite care.