Open Mon-Fri:
Open Sat:
Open Sun:
Telephone:
E-mail:
Homepage:
Floor:

10:00-18:00
10:00-18:00
By agreement
+372 5 309 9005
albatros.textile@gmail.com
www.albatrostextile.ee
II floor
→ Look on map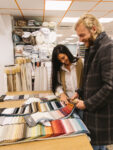 Albatros Textile engages in retail and wholesale of curtain and upholstery fabrics.
Albatros Textile offers a variety of products: Roman, French and Austrian curtains, panels, curtains with eyelets, bed, chair and table covers, blinds, strip and fold curtains, curtain rods, laces pompons and other accessories for curtains.
The shop also offers design, sewing and installation services for curtains.