Open Mon-Fri:
Open Sat:
Open Sun:
Telephone:
E-mail:
Homepage:
Floor:

10:00-19:00
10:00-17:00
Closed
+372 501 5080
arvi.taniloo@mail.ee
II floor
→ Look on map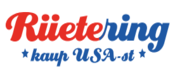 Riietering offers cheap new goods (clothes, shoes, jewelry) directly from America! In addition they offer a wide assortment of mattresses and bedding, domestic, wooden beds and a bag chairs at affordable prices.
You can order special mattresses and bedding with custom dimensions. Order fulfillment will be up to four weeks.